---
In July 2022, our school and PDRi-Pakistan, after a long period of negotiation and negotiation, conducted a comprehensive and meticulous docking according to the academic program standards of both sides, such as curriculum setting, teaching management, research level, and examination specifications. The APSB has strictly reviewed the LMS teaching management system of PDRi and decided to determine that the LMS meets the minimum standards of the APSB teaching and research management system. Therefore, after the joint approval of the Board of Directors and the Supervisory Board, and several evaluations by the Academic Committee and the Degree Committee, this certification is hereby certified. PDRi-Pakistan complies with APSB's academic minimum standard requirements and is hereby issued this certification (which requires an annual review to verify compliance with the standard) and will be directly cancelled if the standard is violated.
Special Note: APSB's and it's all branches Accredits Medical , Engineering & Management Courses.
Certification certificate :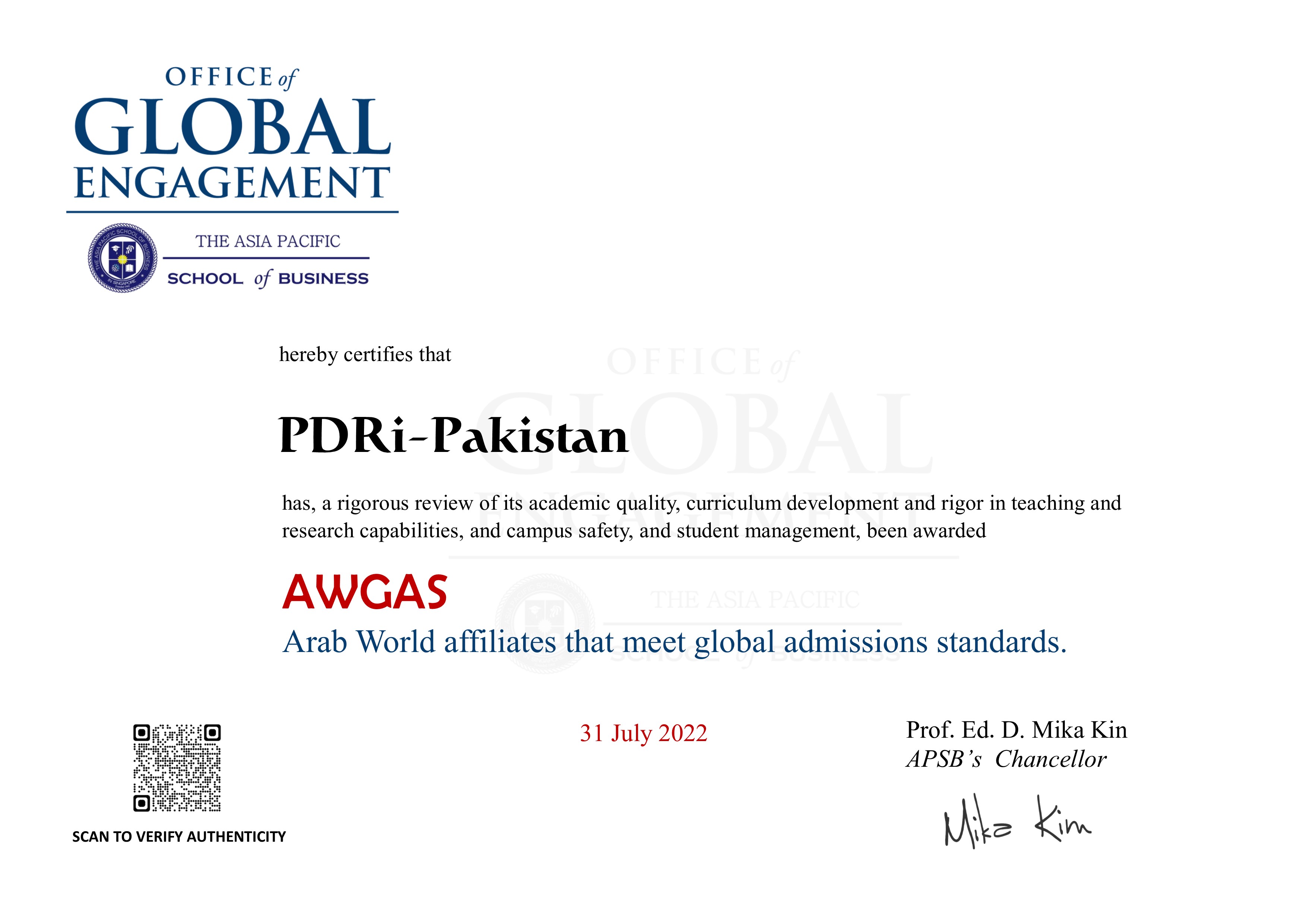 office of Global Engagement for APSB's
July 31, 2022
---
This document is issued under the signature of APSB's Chancellor Prof. Ed.D Mika Kin.
If you have any questions or suggestions, please contact Prof. Ed.D Mika Kin's assistant: sob@apsb.edu.eu
---
About PDRi-Pakistan

PDRi, an ISO Certified Forum,  is short of Professional Development, Research Institute & Consultancy  Services-Pakistan. It conducts research , For Example,  Upskilling Based Research, Professional Action Research, online training, Online Admission Services , and have collaboration with world renowned education firms / institutions.   PDRi  is the brain child of University Professionals / Researchers, that is having unique approach to conventional and structured education- which cant fill the gap arising out of new, modern and complex expansion of technology and market demand.  It  works under the Umbrella Of  PROFESSIONAL RESEARCH & TRAINING SERVICES-SMC, Pvt. Limited. PDRi works under the dynamic leadership of Professor Dr. Zaher shah, Ph.D The institute focuses on the professional development of professionals by introducing new and modern approaches like Professional Action Research to certify the professional prospects in an easy, creative and productive manner. PDRi  has some of its projects for the welfare of society  like Smart Cure Academy, which helps in training slow learners. Similarly has opened  CSS/PMS training Chapter, Professional Research and Training Services, and  Female Development Initiatives.
PDRi has also launched its own Multi Disciplinary Professional Research Journal which is under way to get ISSN number.  This journal will certainly prove a mile stone in the professional development.
PDRi Overseas Chapter is engaged in providing them guidance and counseling in respect of career development via Council membership , admission to an international universities, research support,  through easy to do manner.  For this purpose skilled Pakistanis have been classified into three categories.
A. The Candidate is matric passed and have at least three years practical experience and can demonstrate those skills in any way like research, interview, online study .
B. Intermediate or DAE passed or bachelor pass and having more than 05 years experience are eligible for the award of graduate and post graduate standards international certifications.
C. Usually such persons are graduate and working in multi nationals at  managerial positions. 
PDRi/PDRC is primarily committed to bringing new trends in Professional Qualification based on Research Initiatives, which means to bring development to the professionals mainly via Professional Research, training, Online Action Research. PDRi is, thus, striving to carry new and advanced concepts to the body of knowledge. Formal structural education system both online and on-campus is in vogue in every part of the world. A little attention is paid to professional executive qualifications, mainly for on-job professionals. This Concept is based on the assumption that every person can not afford to pursue traditional education due to family and job pressures. Many experiments in the West like U.S.A., UK, France have taken place, and new terminologies like R.P.L. recognize prior learning, E.B.D. Experience-based education, FTES fast track education system, and so many others have evolved. All these methodologies have been designed so delicately that some persons try to gain camouflage under them and set into selling education in the wrong ways. The honorary Chief Adviser of this organization, Dr. Zaher Shah, a researcher and expert in career development and counseling, with expertise in professional continuing qualification, was having since long a desire to put forward a professional, friendly methodology of learning and development through Research and problem-solving mechanisms. The main approach for this purpose relied on the assessment & evaluation of existing competencies on the basis of Research. Here, Research implies testing, verify, and enhance the intensity and frequency of the prospective candidate. The Research intended for the purpose may vary from simple Assignment to Research Article or Project. Unlike conventional schooling, this set of schooling does not fall in some national or internationally schemed frameworks of education and regulatory entities. However, PDRi presents a plate form for such activities keeping in view the needs, environment, and  busy work schedule of the on job  professionals.
Certificate of Authorization granted to PDRi: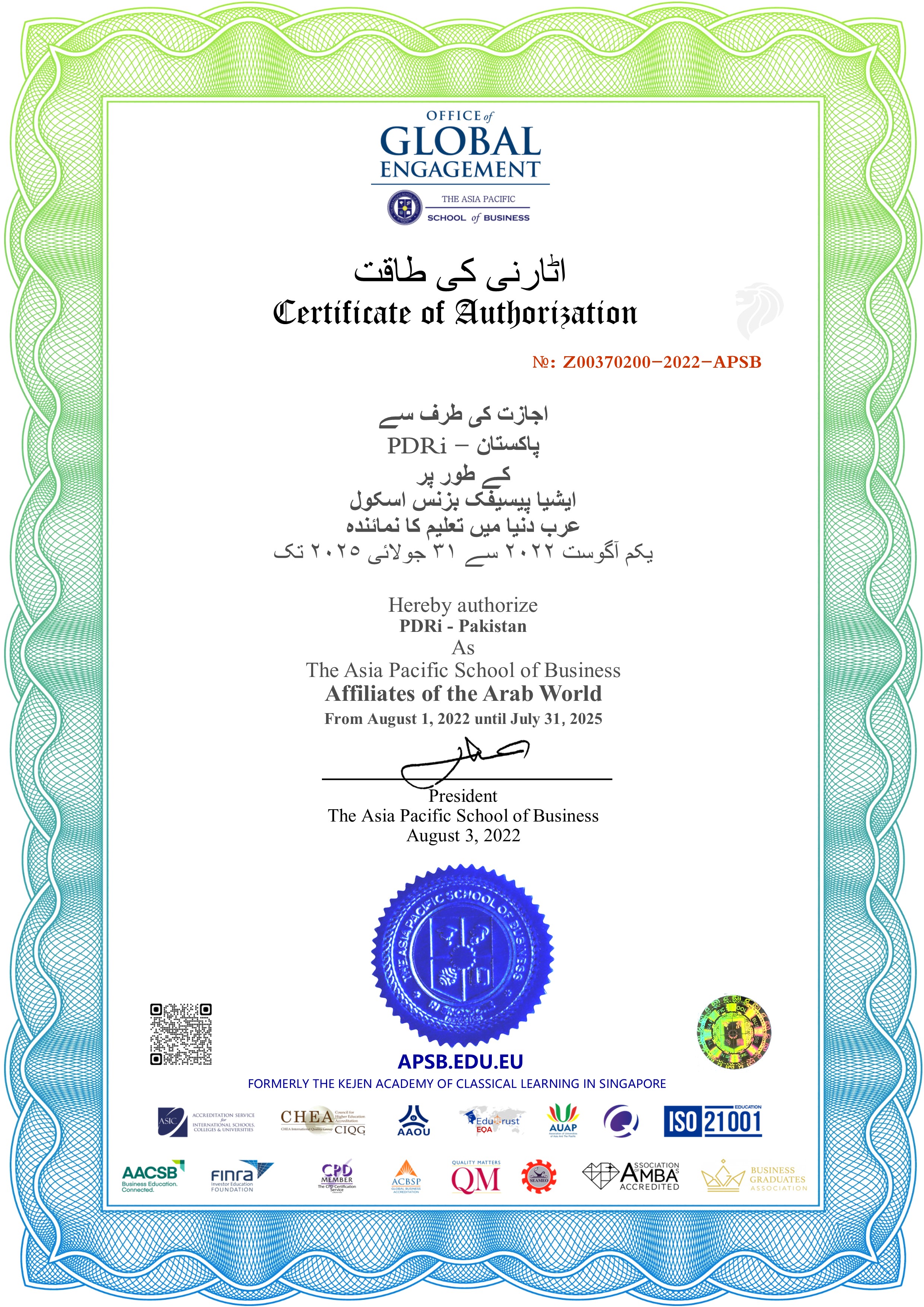 ---
Visit PDRi-Pakistan for details. https://www.pdri.org