---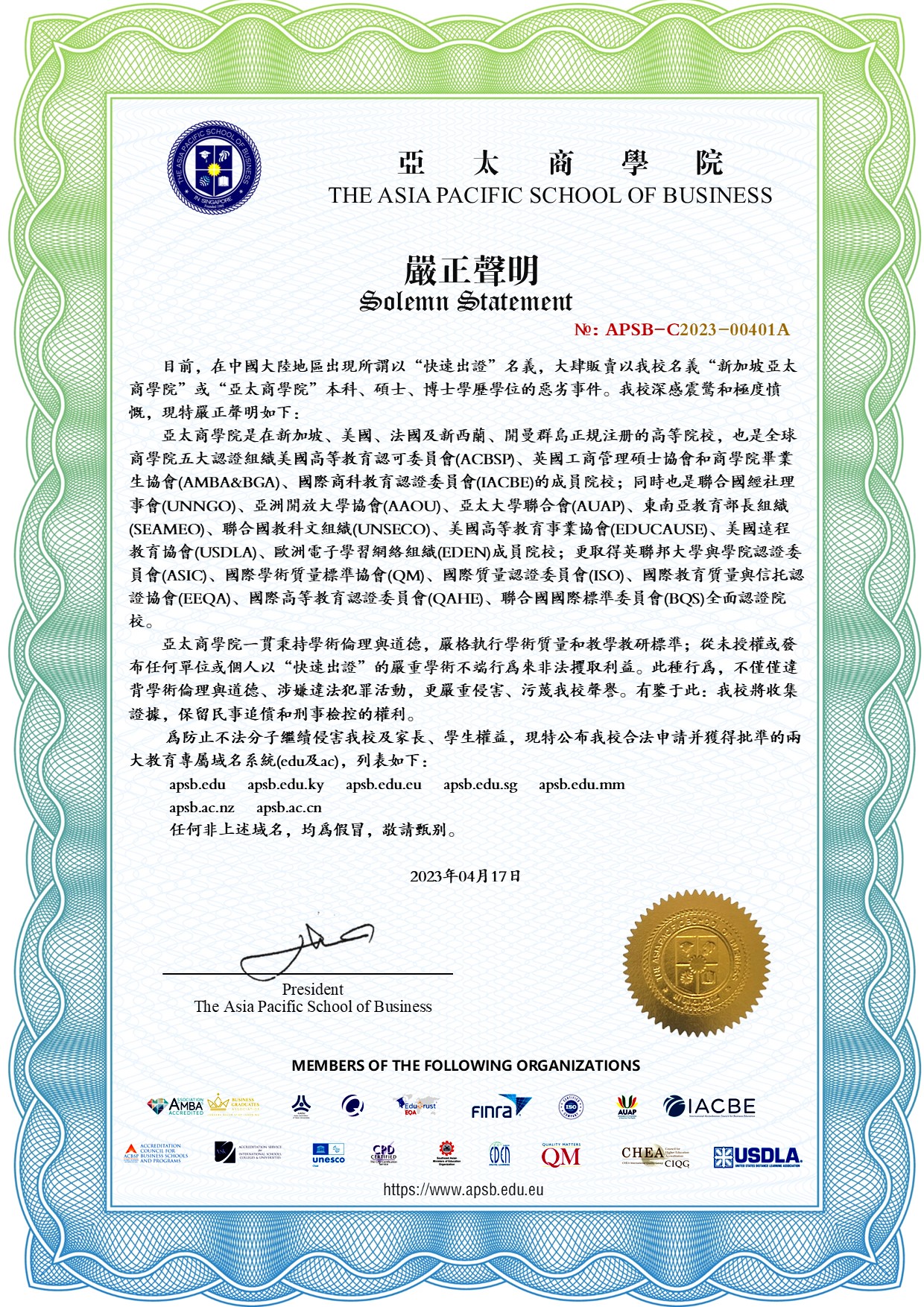 Currently, there are incidents in mainland China where individuals are selling undergraduate, master's, and doctoral degrees and diplomas from "The Asia Pacific School of Business in Sinapore" or "The Asia Pacific School of Business" in the name of "quick certification," using our university's name. Our university is deeply shocked and extremely angry about this malicious behavior and would like to make the following statement:
The Asia Pacific School of Business is a legitimate higher education institution registered in Singapore, the United States, France, New Zealand, and the Cayman Islands. It is also a member institution of the five global business school accreditation organizations, including the Accreditation Council for Business Schools and Programs (ACBSP), Association of MBAs and Business Graduates Association (AMBA&BGA), and the International Accreditation Council for Business Education (IACBE). Furthermore, it is a member institution of the United Nations Economic and Social Council (UNNGO), Asian Association of Open Universities (AAOU), Association of Universities of Asia and the Pacific (AUAP), Southeast Asian Ministers of Education Organization (SEAMEO), United Nations Educational, Scientific, and Cultural Organization (UNSECO), EDUCAUSE, USDLA, and EDEN. It has also been fully accredited by the Accreditation Service for International Schools, Colleges & Universities (ASIC), Quality Matters (QM), International Accreditation Organization (IAO), European Association for Distance Learning (EADL), The EduTrust Education Quality Accreditation Association (EEQA), International Association for Quality Assurance in Pre-tertiary and Higher Education (QAHE), and the Bureau of Quality Standards (BQS) of the United Nations International Standards Organization.
The Asia Pacific School of Business has always adhered to academic ethics and morality, strictly implementing academic quality and teaching and research standards. It has never authorized or released any academic misconduct that uses the serious misconduct of "quick certification" to illegally gain benefits. Such behavior not only violates academic ethics and morality, but also involves suspected criminal activities, seriously damaging and defaming our university's reputation. Therefore, our university will collect evidence and reserve the right to pursue civil compensation and criminal prosecution.
To prevent illegal elements from continuing to infringe upon the rights and interests of our university, parents, and students, we are now disclosing the two education-specific domain name systems (edu and ac) that our university has legally applied for and obtained approval for, as listed below:
apsb.edu, apsb.edu.ky, apsb.edu.eu, apsb.edu.sg, apsb.edu.mm, apsb.ac.nz, apsb.ac.cn.
Any domain names other than those listed above are fake, so please be careful when identifying them.
Office of the Provost
The Asia Pacific School of Business
Authorized release
April 17, 2023.