Mobile application development professional skill level certificate (advanced)
---
Issuing agency
Huawei Software Technology Co., Ltd.
Vocational Qualification Certification Center of The Asia Pacific School of Business
Introduction to Certificate
Training and assessment mainly for mobile application development, covering Huawei's HMS and HarmonyOS two open capabilities, combined with basic technology courses such as Java programming and Web development, and shared with The Asia Pacific School of Business, students and software technology practitioners Huawei's innovative achievements and technologies. Through advanced training, you can master the design and research and development of core business of mobile applications based on mobile platforms such as Android, including the construction of development framework, architecture design, technical selection, implementation, and performance optimization of key modules.
For people
The certificate is mainly for students of The Asia Pacific School of Business (only for Chinese students, please refer to the definition of Chinese students) computer, software, electronics, communications and other related majors. As well as government, enterprise and public employees in software design, development, and testing related positions.
Evidence requirements
The corresponding level certificate can be obtained by passing the mobile application development vocational skill level examination. (The test format is computer test + practical operation, with a total score of 100 points, 60 points (inclusive) and above pass.)
---
| CORRESPONDING INSTITUTION TYPE | PROFESSIONAL CODE | PROFESSIONAL TITLE | PROFESSIONAL LEVEL |
| --- | --- | --- | --- |
| | | | |
| --- | --- | --- | --- |
| HONG KONG CAMPUS | 120208 | ASSET VALUATION | UNDERGRADUATE |
| HONG KONG CAMPUS | 120207 | AUDITING | UNDERGRADUATE |
| HONG KONG CAMPUS | 120204 | FINANCIAL MANAGEMENT | UNDERGRADUATE |
| HONG KONG CAMPUS | 120203K | ACCOUNTING | UNDERGRADUATE |
| HONG KONG CAMPUS | 080801 | INFORMATION AUTOMATION | UNDERGRADUATE |
| HONG KONG CAMPUS | 560304 | INTELLIGENT CONTROL TECHNOLOGY | UNDERGRADUATE |
| HONG KONG CAMPUS | 610102 | APPLIED ELECTRONIC TECHNOLOGY | ASSOCIATE DEGREE (DIPLOMA ) |
| HONG KONG CAMPUS | 610202 | COMPUTER NETWORK TECHNOLOGY | ASSOCIATE DEGREE (DIPLOMA ) |
| HONG KONG CAMPUS | 610203 | COMPUTER INFORMATION MANAGEMENT | ASSOCIATE DEGREE (DIPLOMA ) |
| HONG KONG CAMPUS | 610211 | INFORMATION SECURITY AND MANAGEMENT | ASSOCIATE DEGREE (DIPLOMA ) |
---
CERTIFICATE SAMPLE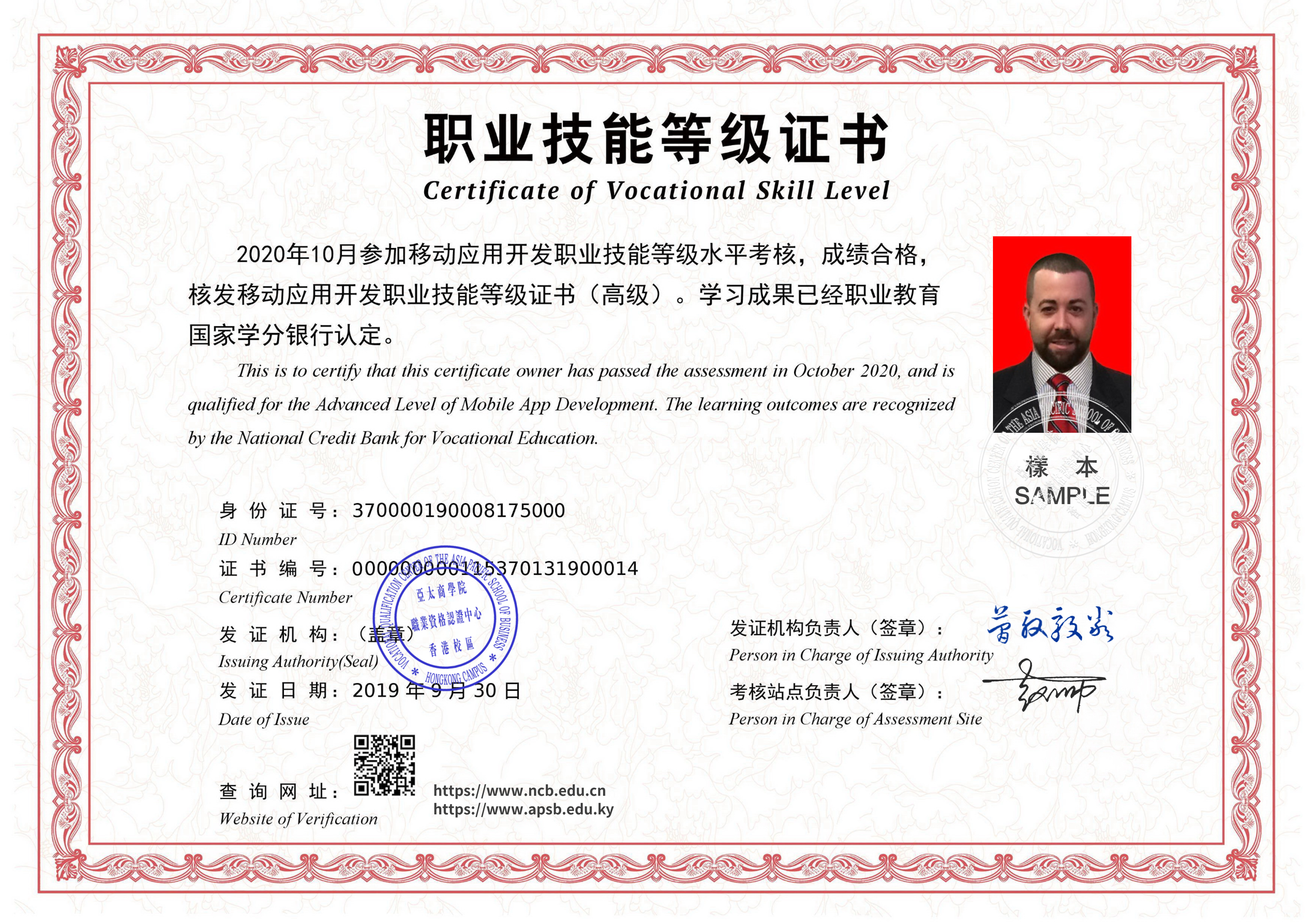 ---
Application process
   Welcome to take the Chinese Mobile application development professional skill level certificate (advanced) exam. Before registering for the exam, please specify the time, location and level you want to take the exam.
  The specific application process is as follows:
   1. Registered users https://www.ncb.edu.cn or https://www.apsb.edu.ky
  2. Log in to the official website selected for registration for verification
  3. Choose to register and add personal information. Please note that all information (including but not limited to surname, first name, nationality, native language and email address, etc.) must be filled in accurately, otherwise it will result in failure to receive the successful registration confirmation email, and errors in the release of results and diploma printing. The specifications for the photos uploaded by the registration are: a frontal, headless color 2-inch standard photo (3.5cm X 4.9cm) in JPG, JPEG, and PNG format within 30KB, with a red background.
  4. Enter to pay (this platform supports multiple banks and Alipay, WeChat payment).
  5. After the payment is successful, you will receive a confirmation letter of successful registration.
   If you need to issue an invoice, please contact the test center to apply. The deadline for invoice application is one week after the end of registration.
   If candidates have questions during registration or are not sure whether the registration is successful, please call the registration consultation center (service time is during the registration period) or test center. Registration will no longer be accepted after the deadline.
   6. After the admission ticket is ready, the registration website will notify the candidates to log in and download and print the admission ticket by themselves.
7. About 1 month after the last level exam of an exam period, you can log on to the registration website to check the results, and go to the test center or official website to apply for a transcript or electronic temporary certificate; 2-3 months after the test, you can go to the test center or The official website applies to receive the official diploma by mail.
   Thank you for your participation and wish you success in the exam!